Your wedding day is quickly approaching! Congratulations! All of the details are falling into place, but you still don't have a wedding photographer in Miami. How do you even go about finding one? After all, you've never done this before; if you have, times may have changed in the wedding photography world. The key to finding the perfect photographer is research, and you're in luck because we've done the legwork for you!
First Things First: Set a Budget
If you're like most couples in the USA, you have a wedding budget to follow. First, make sure to tailor the cost of photography to your allotted expenses. Wedding photographers are not cheap (and they shouldn't be because you get what you pay for). Find photographers that have prices that align with your budget. If you're having trouble doing so, you may wish to consider trimming the cost of other expenses, such as flowers or catering. There are many ways to make it work!
Decide On Your Favorite Miami Wedding Photography Style
The wedding photographers in Miami you are considering should have a portfolio of picture samples to browse. You can gauge their style and decide whether it is what you're looking for or not. The team at Miami Wedding Planners highly recommends that you do this with your significant other so that you're both on the same page regarding the photography style and technique.
Book Your Venue
According to Brides.com, booking your venue before hiring a photographer is advisable. By doing so, you are giving yourself and the photographer you choose a good idea of the location and layout. Make sure to secure your photographer at least nine months before the big day.
Check Out Social Media and Blog Reviews of Wedding Photographers
There's nothing quite like taking tips from your peers. All it takes is typing "local photographers" into your TikTok or Instagram search bar, and you'll be inundated with countless reviews. It's a fun way to see what everyone is saying about the photographers in the Miami area. Plus, you'll most likely get to view photos of many weddings, which will help you decide on whose work you like best.
Interview Some Wedding Photographers
So, you've narrowed it down to several photographers. What comes next? You should call them and schedule some time for an interview. You want to get a feel for the photographer to ensure you connect well. Not everyone meshes, and when it comes to your wedding, you definitely want there to be a connection. After all, this person will be witnessing one of the most magical and joyous occasions of your life, not to mention they'll be preserving your memories through the camera lens.
During the interview, make sure to ask for samples of their work, their experience, and anything else that's on your mind. All good photographers will have a portfolio ready to show you. It's essential to know how many weddings they've worked as a photographer at and what the style was. You'll want to know that the photographer has the expertise and dedication you and your loved one are looking for.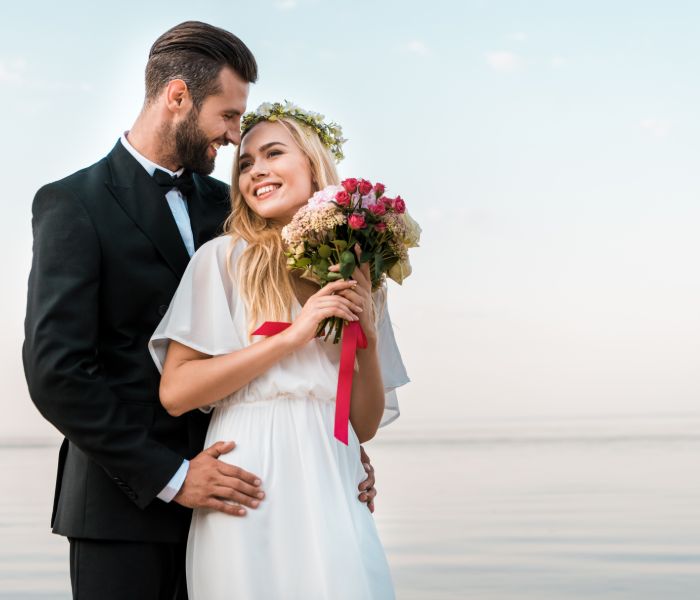 Discuss the Fees
Before you get too excited over the photographer that you're falling head over heels for, make sure their fees are within your budget's limits. You don't want there to be any surprises. Actually, prices should be one of the very first subjects that you dive into with any potential wedding photographer in Miami, FL.
Schedule a Test Shoot with a Wedding Photographer in Miami
Have you settled on the perfect wedding photographer? Awesome news! However, there's just one more test that needs to be fulfilled. Make sure to set up a test-run photo shoot before the wedding. You might consider having some engagement photos taken of the two of you. That will allow you to see the photographer's style and skills before you fully commit to booking them for your wedding. Of course, you might find out that you're not a good match after all, and then it's back to the drawing board. But hey, at least you won't be disappointed with your wedding photos, right?
Who is Miami Beach Wedding Planners?
We're a company of dedicated Miami wedding planners that help brides and grooms-to-be with all the details of making their big day as memorable as possible. From finding delicious catering services to the perfect florist, our services are definitely all-in-one. Please call us at (786) 304-1660 to book an appointment for a FREE consultation. We look forward to working with you!