What is the off season for weddings, and is this the best choice for your big day? Since there are so many details to plan when it comes to a wedding no matter its style or size, it's vital you understand a few differences between seasons and how one or the other can affect your plans!
The off season for weddings is when fewer couples are planning their nuptials, usually from December through March. The off season can mean lower prices on a venue and services, but also present a number of challenges including inclement weather, crowded holiday travel, and more illnesses among guests and the wedding party!
The off season for weddings is an excellent time to plan your nuptials if you understand these added challenges ahead of time, and ensure you make whatever arrangements are needed to work around them. It's also helpful to note a few tips about picking a wedding date in general, so every detail of your "big day" works for you.
As always, consult with friends, family, relatives, and a wedding planner as needed. While the engaged couple will have the final say in arrangements, the experience of others can prove invaluable in the decision-making process. Remember, too, that you want to relax and have fun no matter what happens, and ensure you enjoy your wedding and reception whatever time of year!
Is the Off Season for Weddings the Best Time to Get Married?
Many couples prefer to marry when the weather is mild and won't pose a problem for travel, which is why spring and fall weddings are so popular! Summer weddings also allow a couple to enjoy their honeymoon at a beach resort or other popular spot for honeymooners, or to travel without having to worry about weather-related delays or canceled flights, and the like.
Spring, summer, and fall also provide added opportunities for outdoor photography and settings, without having to worry about bitterly cold temperatures or unsightly snow piles in your picture backgrounds. If you have your heart set on a beach wedding, or a wedding in the country or local park, then you'll probably appreciate warmer weather rather than cold temperatures.
This doesn't mean that off season weddings are a poor choice for any couple, however! You might consider some reasons why wintertime can actually work out for your plans, and make your "big day" one that no one will forget:
The most common reason for couples to choose the off season for their nuptials is that venues and service providers usually lower their prices during this time, as they are not in demand as much during the off season.

A couple might find that certain venues and service providers are fully booked during a popular wedding season in their area; if you want to reserve a particular church, reception hall, caterer, or other option, you might find that they're booked for several years during peak wedding seasons!

Cities might begin to put up Christmas lights long before December 25, which gives a wedding party lots of opportunities for beautiful photo backgrounds if you plan properly! A gazebo in a city park, for example, can provide a very tranquil, stunning setting without having to pay for all that added lighting yourself.

A winter or Christmas-themed wedding can be very unique and appreciated; those of Christian faiths might especially appreciate being able to incorporate the Christmas holiday in their wedding plans. Decorating with lots of paper snowflakes, Christmas lights, and even traditional Christmas decorations can make for a very unforgettable event!

Wintertime can also mean a more unique, personalized menu for your reception. You might offer a hot cocoa bar where guests choose their own unique chocolate blends and toppings and include rich comfort foods that are budget-friendly and easy to prepare, such as potato dishes, roasted vegetables, and turkey or ham rather than beef.

While holiday travel might get a bit congested, airlines might lower airfare prices after January 1, to compensate for the lack of travelers during wintertime. This can mean cheap flights to your honeymoon destination, or for guests who need to fly in from other areas of the country.

Winter is an excellent season for those who prefer a darker color theme in their wedding. If you would love to see your bridesmaids in black and white or regal red velvet dresses, choose an off-season wedding day during the winter months!

If you're planning a destination wedding or honeymoon to a tropical location, wintertime in other areas of the country can mean the best weather in your chosen resort!

Since fewer couples plan off-season weddings, you might not run into conflict with someone else's plans. Your relatives might also not need to choose between two weddings planned on the same weekend or so close together that they cannot afford the gifts, travel, and other such expenses.
Note, too, that many families travel and get together for Thanksgiving or Christmas traditionally; if you were to plan your wedding for when everyone is already in town, this can save visitors the cost of a second trip! If you're planning a small home wedding, relatives might also be more inclined to provide a dish for the reception if they're already prepared to cook for the holidays, which can also help you save.
What Time of Year Is Cheapest to Get Married?
While December through March might be considered off season for most of the United States, this isn't true in every state, and marrying during these months won't automatically save you money. For example, in Florida, Texas, California, and Arizona, the winter months might actually be peak travel and event season! These cooler months often attract more visitors than any other month during the year, so you might not save money during the so-called off season in those areas.
Note, too, that travel during the Thanksgiving, Christmas, and New Year's holidays can be very crowded and more expensive than other times of the year. Many couples also plan their wedding for Valentine's Day, or the first weekend before or after February 14, so venues and services might be more expensive and more difficult to reserve during those weeks.
Other than those particular weeks, early December, January after New Year's Day, early and late February, and the month of March are usually the cheapest for wedding venues and services. These weeks might also offer the lowest airfares and hotel rooms or resort stays.
The Least Popular Month to Get Married
January is typically the least popular month to get married, despite it offering off-season pricing for many venues, wedding services, airfare, and hotel rooms. January often means gray winter days with little sunshine and heavy snowfall in many areas of the country.
Many people are also more financially conscious in January, as they begin getting credit card bills they ran up for Christmas shopping, or are looking at their drained bank accounts! Some people might also be more aware of their New Year's resolutions to save money and spend more wisely during January, so they might be less likely to travel for a wedding, attend wedding showers, or buy expensive gifts for the couple.
The Best Months for Weddings
June, September, and October usually offer mild yet warm weather, making them the most popular wedding months for most couples. May and August round out the top 5 list, as these months also offer mild weather. Check out some added reasons why these can be the best months for a wedding:
Kids usually start getting out of school in June and are out for most of August, making it easier for families with children to travel to an out-of-town wedding.

May means springtime flowers and a feeling of a fresh start for many people, making it an excellent choice for the first day of your new life together!

Late September and the entire month of October mean fall weather, which can provide an excellent background for outdoor weddings.

A Halloween-themed wedding or one with fall colors is a very unique choice for any couple! If you prefer shades of orange, rusty red, or brown for your wedding theme, September and October are excellent months for your big day.

Summer months mean longer daylight hours, so guests can better enjoy an outdoor wedding. You can also plan better for sunset pictures after your ceremony, without having to rush through the nuptials to capture the setting sun.
While these months are often considered best for a wedding, August starts peak hurricane season on the east coast, and May does kick off peak wedding season so wedding planners and other service providers start getting very busy! Keep these cautions in mind if you decide on an August or May wedding.
Prices of Winter Weddings
The amount of money you might save on a winter wedding depends on your location and plans; in some areas, you might not save much at all. Wedding service providers in states with warmer weather might not lower their prices during winter months, or might even raise prices if they're in a certain area popular for winter weddings!
Most couples might expect to save between 20% and 30% off the venue bill when planning a winter wedding, according to CNBC. Wedding service providers, airline costs, and other such expenses might offer similar savings.
December Weddings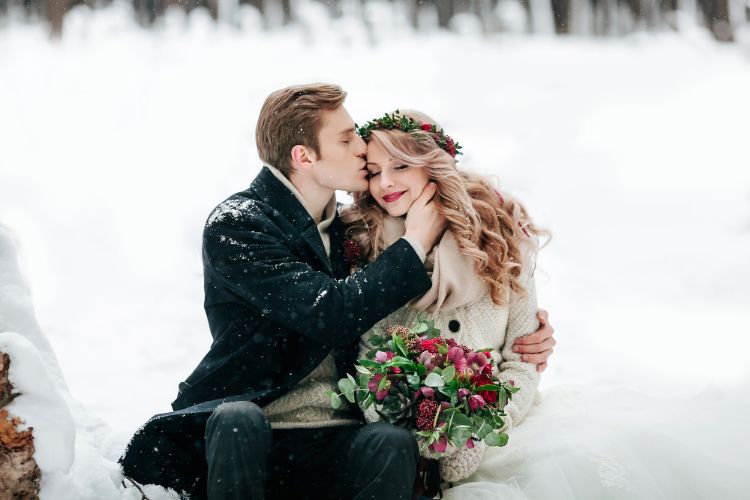 A couple can have a wedding any month that works for them! Since planning a December wedding might mean a few special challenges, note some added details to keep in mind:
Family and guests are often already committed to other plans during the December holidays. You might then be "competing" with those plans, and could realistically end up with fewer in-person guests than you expect.

Even during an indoor wedding, it's easy to feel cold and uncomfortable in a traditional sleeveless gown or lightweight suit, so include sleeves or a jacket for the bride and added layering for everyone in the wedding party. This can actually be a great chance to add some color to your bridal party; bridesmaids might be draped in a colorful shawl, or groomsmen might appreciate a colorful vest to keep them warm!

While holiday lights and twinkling snow can provide stunning backgrounds for your wedding photos, dirty snow and gray weather can make those pictures look downright depressing! Ask your wedding photographer if he or she has editing experience and would be able to touch up any such unsightly backgrounds.

Many flower varieties are either unavailable or very expensive in December! Be prepared to choose seasonal flowers for bouquets, such as amaryllis, sweet peas, or carnations. You might also decorate your venues with potted plants or birch branches rather than flowers, for more savings.

To offset the chilly weather, look for venues with fireplaces! Many restaurant banquet rooms or older churches have working stone fireplaces that offer needed heat as well as a cozy, romantic ambiance.
How Do You Pick a Wedding Date?
To choose a good wedding date for you and your significant other, first consider how long you'll need to plan your wedding. The time needed to make those plans will vary according to your wedding size if you must have the ceremony in a certain venue if a number of guests will be coming in from out of town, and other details.
As an example, if you must have your wedding in a certain religious venue, it's vital that you start checking on availability the minute you get engaged! Some churches, synagogues, and other such venues can get booked several years in advance.
On the other hand, if you don't need a particular venue, choose the season that you prefer for your wedding and then a day that works well for your work schedule and travel plans. Next, start calling various photographers, caterers, and service providers, as these tend to book up quickly. The sooner you start making plans, the easier it will be to find the service providers you need and ensure a beautiful wedding day everyone will love!
Miami Beach Wedding Planners is proud to offer this information to our readers and we hope it helped answer the question, what is the off season for weddings and is this the best choice for your wedding? We are also especially proud of the services provided by our wedding planners in Miami Beach, as our entire team works hard to ensure every couple enjoys the wedding of their dreams. If you're thinking of having your wedding in Miami and need help with planning, choosing a venue, hiring a photographer, or any other detail, give us a call. We customize every plan to fit each couple individually and can help you create a ceremony and reception you'll never forget.